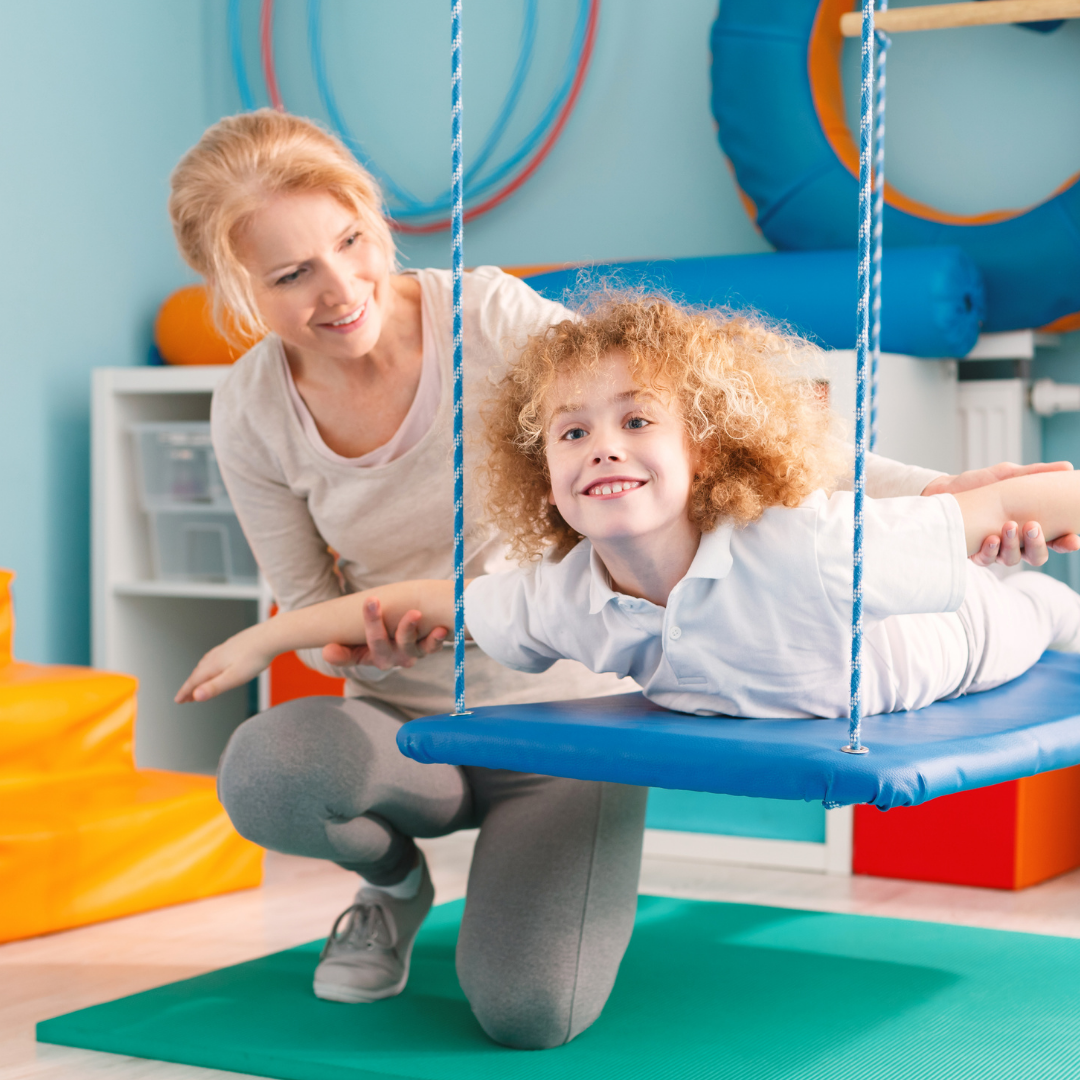 Occupational Therapy
Occupational therapy is an evidence-based practice to address sensory issues and equip parents to manage their child's behavior more successfully. Problems with sensory processing can explain why children with autism may not like noise, being touched, or the feel of certain clothing.  An occupational therapist works to develop skills for motor planning, gross motor, fine motor, handwriting, fine motor skills, visual motor skills, oral motor skills, and daily living skills.
Occupational Therapists (OTs) can provide sensory integration therapy, feeding therapy, handwriting, and more.  OTs can create a sensory diet for families to follow at home once they have assessed and understand how the child is processing the environment.
Guided by the child's interests, the therapist provides fun and motivating activities that aim to provide a "just-right challenge" so that the child will develop the underlying skills needed to effectively complete meaningful tasks. An occupational therapist may assist a child in developing mature grasp so they can hold a utensil to feed him- or herself. A therapist may use sensory integration theory into treatment to assist the child in decreasing sensory-avoiding behaviors (like avoidance of brushing his or her teeth or hair), sensory sensitivities (such as sensitivities to certain fabrics or food textures), and sensory-seeking behaviors (like seeking movement input by constantly spinning, pacing, or rocking). Addressing such issues will help the child self-regulate so that he or she is able to function and learn at school.
When skill and strength cannot be developed or improved, occupational therapy offers creative modifications and adaptations for carrying out age-appropriate activities.
Local Resources
The California-Hawaii Elks Major Project, Inc. is a non-profit organization that provides FREE physical therapy, occupational therapy and speech therapy services to children from birth to 18 years of age. Children are eligible for our services if they: would benefit from home-based or virtual therapy services (as determined by the evaluating therapist), are not receiving or eligible to receive therapy services from any other agency or professional, parent/guardian MUST be present for all therapy sessions and be actively involved to follow through with home activities/suggestions from therapists and have an environment in which services can be provided safely to meet the child's therapy goals. We will also require a therapy prescription from a doctor within the first 45 days of beginning the therapy service.  Anyone can refer a child to our services at any time. Simply contact Samantha Bell, PT, DPT via phone 909-501-2408 or email at sbellpt@chea-elks.org to begin the referral process. For more information please check out our website at: https://chea-elks.org/major-project/services/
Casa Colina – The A. Gary Anderson Children's Services Center
255 East Bonita Avenue, Pomona
(909) 596-7733 x4200 or 1(800) 926-5462
www.casacolina.org
Offers occupational and physical therapy, private speech and language therapy, feeding therapy, early intervention classrooms, adaptive playground equipment that is wheelchair accessible and specialty doctors. Writing Workshops for children ages 6 -12 who struggle with the mechanics of writing cursive or printing are available in the summer.
Desert Occupational Therapy
77564 Country Club Dr. Suite 368B, Palm Desert, CA 92211
760-772-2838
https://www.facebook.com/DesertOccupationalTherapyForKids/
We are a team of dedicated and passionate professionals that provide OT assessment and intervention to children with a variety of diagnoses, including: autism spectrum disorder, developmental delay, sensory processing disorder, feeding dysfunction, Down syndrome, and congenital disorders.
Easy Speech Therapy Center
41555 Cook Street Suite 100, Palm Desert, CA 92211
P: 760-837-0033 F: 760-837-1013
http://easyspeech.org/
Easy Speech Therapy Center offers board-certified Speech Therapy, Occupational Therapy, Physical Therapy, Applied Behavior Analysis Therapy, and Psychological Services for both adults and children. As a designated Qualified Autism Service Provider, our expansive facility is designed to provide customized therapy services in an inviting and nurturing environment. Utilizing our comprehensive care approach, we provide an effective personalized intervention that improves the lives of the individuals and families we serve.
Home Grown OT 4 Kids, Pediatric Occupational Therapy Services
39252 Winchester Rd.107-320 Murrieta,  http://www.homegrownot4kids.com/
858-254-1243
Home Grown OT 4 Kids is a home and clinic-based Pediatric Occupational Therapy practice in Murrieta, Ca providing quality therapy to achieve functional goals in an authentic environment.   Certified Sensory Integration Therapist
with advanced training at the STARS Center to assess sensory processing disorders, Certified Interactive Metronome provider and therapy; certified handwriting therapist (Handwriting Without Tears),  Feeding Therapy using SOS and AEIOU approaches. Emphasis in on home training, parent mentoring, and the arts ie dance, yoga, music.  Also provide services to school districts, preschools, and Independent Educational Assessments
Hope Comprehensive Center for Development
41760 Ivy St #101, Murrieta, CA 92562
info@hopeccd.com
(951) 595-4673
https://hopeccd.com/occupational-therapy/
If your child is very sensitive to loud noises, has trouble following verbal directions, gets upset in the course of daily routine tasks like dressing, bathing, washing hair, etc.; has a limited diet because he/she can't stand the feel of certain foods, or appears clumsy or can't sit still; then your child may benefit from occupational therapy services.

Horizon Therapy Services
8265 White Oak Ave. Rancho Cucamonga
(909) 373-1641 or email info@horizontherapyservices.com
http://horizontherapyservices.com
Provides Physical and Occupational Therapy, along with Speech and Language Pathology services and feeding therapy. Additionally offers a center-based early intervention program for children ages 18-36 months 
Inland Children's Therapy, Inc.
1001 E. Cooley Dr, Suite 101, Colton
(909) 783-1111
http://inlandchildrenstherapy.com/
Provides in-home physical, occupational and speech therapy through private pay, Inland Regional Center, or school district.
Leaps & Bounds Pediatric Therapy
(951) 340-0431
leapsandboundspediatrictherapy.org
2200 Hamner Ave Ste 107, Norco, CA 92860
Provides physical, occupational, and speech services. Services include evaluation, consultation, treatment, home and school program activities that promote typical development and functional mobility. We offer a comprehensive family-centered approach to mulit-disciplinary care…we all work together with and for you and your child! We are excited to offer the highly evidence-based treatment strategy- hippotherapy- as part of a comprehensive treatment plan, in addition to our recreational therapeutic riding program.
Littlefield Therapy
41421 Date Street, Suite 101, Murrieta
1171 S. Sanderson Ave, Suite 102, Hemet
32401 Temecula Parkway, Temecula
855-454-3784
www.littlefieldpt.com
OT, PT and Speech Therapy. Through the utilization of highly skilled, evidence-based, compassionate, licensed therapists we aspire to facilitate the attainment of individual and family goals.
Loma Linda University Medical Center Outpatient Pediatric Rehabilitation
11406 Loma Linda Drive, Loma Linda
(909) 558-6144
http://lomalindahealth.org/
Outpatient Rehabilitation offers physical therapy, occupational therapy, and/or speech and language pathology. Accepts Medi-Cal, many insurances, and private pay.  A physician referral may be needed.
Olive Tree Occupational Therapy
37788 Thurne St Indio, CA 92203
(760) 972-7089
https://www.olivetreeot.com
Olive Tree Occupational Therapy offers private pediatric occupational therapy evaluations and individualized one-to-one treatment sessions uniquely designed to support each client and help them reach their goals. Olive Tree OT is proud to offer enrichment classes in our partner facility located in Palm Desert to enhance generalized motor and sensory skills for kids and teens in our community. Parent Coffee Hour and Siblings of special needs support groups are presented by Olive Tree OT at no cost to members of the community. Virtual Services Available
Playworks Center for Development and Learning
112 Eleventh Street, Redlands
(909) 792-0543
www.playworks.cc
Playworks is a private practice of professionals providing assessment, intervention, and consultation to families of young children (infancy to early school age) with autism spectrum disorders since 1996.  Services include assessment, developmental intervention (DIR®/Floortime Model), occupational therapy, speech/language therapy, social skills groups, and consultation.  Funding sources include health insurance, private pay, and school district contracts.
Rapha Physical Therapy
4959 Palo Verde Street, Suite 104A, Montclair
(909) 971-3092
http://raphapt.com/
Work with children in the clinic, homes, and schools. Provide a number of services including physical therapy, occupational therapy, speech therapy, services as well as specialized health education classes to meet the needs of the ones we serve. Accepts many insurances including IEHP and Molina.
Sensabilities
https://www.senseabilitiestherapygroup.com/
5858 Magnolia Ave #A, Riverside
(951) 779-1966
Works with children and adults who are developmentally disabled. Provides services in the areas of speech and language, occupational therapy – including sensory services, and some educational therapy such as Therapeutic Listening, as well as behavioral supports. Affiliated with a non-profit that provides Hippotherapy (therapeutic horseback riding). Currently accepts insurance for Kaiser Permanente and Beaver Medical Group. Please contact them for hourly rates for privately funded programs.
Temecula Valley Therapy Services
41769 Enterprise Circle N.Suite 104 & 105,Temecula, CA 92590
(951) 303-8255
www.temeculatherapy.com
Offering Physical Therapy, Occupational Therapy, Speech-Language Pathology and ABA services as well as pediatric feeding & swallowing and pediatric pet therapy/animal assisted therapy.
Up & Movin' Pediatric Physical Therapy
6180 Brockton Ave. Suite 202, Riverside
(951) 684-6500 
www.upandmovintherapy.com
Besides offering physical, speech and occupational therapy, Offers yoga classes, Dance Classes, Fitness For Kids, Language & Literacy Classes, Social Skills Groups, Cooking & Eating For The Picky Eater, Handwriting & Crafts, Sensory Exploration & Motor Skills Development and Toddler Play & Move.  Accepts over 20 different insurances.
Autism Society Options Policy
This Resource Guide was developed to provide families and professionals with an opportunity to find resources related to autism in the Inland Empire in one place.
All information provided or published by the Autism Society Inland Empire is for information purposes only. Specific treatment, therapy or services should be provided to an individual only at the direction of the individual's doctor, caregiver, or other qualified professional. References to any treatment or therapy option, program, service, or treatment provider are not an endorsement by the Autism Society. References of treatments, therapies, programs, services, and/or providers are not intended to be comprehensive statements. You should investigate alternatives that may be more appropriate for a specific individual. The Autism Society assumes no responsibility for the use made of any information published or provided. The Autism Society Inland Empire provides information, but it does not constitute medical or legal information. Referrals provided are suggestions to organizations that might help, but do not constitute a recommendation. The Autism Society Inland Empire cannot be held responsible for consequences that arise from individual dealings with a professional or organization. The inclusion of any organization does not imply endorsement, and omission does not imply disapproval. The Autism Society Inland Empire may add or remove organizations from this list at its discretion.